Your own professional studio website
These days, every business can benefit from having a web presence. This includes your teaching studio. Duet makes it easy (and free) to have your own studio website. Your students will love it, and so will you!
Professionally Designed Themes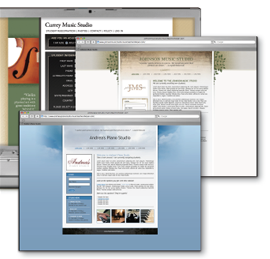 You don't need to be a web designer or programmer. We've created 18 beautiful themes for you to choose from. Customize your website with your own logo, and pages.
You have complete control over your studio website's content. Create an unlimited number of pages with text, links, pictures, videos, and more. It's as easy as using a word processor.
New students can register for your studio or request information from you. Existing students and parents can login to check their schedules, invoices, and make payments on-line.
Photo and File Areas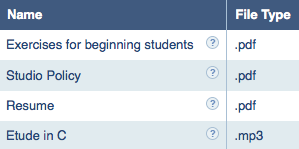 Your studio website comes with a Photos page, where you can upload photos of your studio, your students, or other pictures you'd like to showcase.
You also have a File Area, where you can upload documents and other files for your students. For example, you could upload an mp3 of a recent performance, worksheets or exercises, contracts, or even sheet music from Finale or Sibelius. The possibilities are endless!
Files can be public so anyone can download them. Or you can password protect the files, and even restrict them so they can only be seen by specific students in your studio.
Mass Email Your Students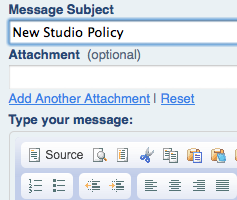 Ever want to get a message out to all of your students at once? Duet lets you send personalized mass emails to all or any of your students, with one click. Email your active students, waiting list students, or former students. Send to parents, child students, or both. Customize the message with different fonts and colors.
Email Templates
If you find yourself sending the same types of messages over and over again, there's no need to re-type them. Create email "Templates" to pull from when sending a message, then customize it as needed.
Duet also lets you re-word the automatic system emails that are sent, such as a welcome letter, birthday greeting, lesson reminders and notes, payment and invoice notifications, and lent item due reminders. Be in control of your studio like never before.
Studio Announcements
Place announcements on your public studio website, as well as private announcements that only show when students and parents login. This is a great way to communicate openings in your studio, congratulate students on a job well done, or to remind them of something important. Announcements can include links, photos, videos, and more.
Your Own Blog

Keep your students informed and create content to interest perspective students. You have the ability to turn the blog feature on or off as well as decide if you want the content to be seen publicly or privately.
Why is a blog such a great feature to have on your website? If you have social media accounts dedicated to your studio, blog posts you create can be one of the best types of content to post on social media. This establishes knowledge, credibility, and also gives those viewers a reason to click through to your studio website.
Other Website Features
Customizable URL Choose your own website address at https://duetpartner.com. You can change it at any time.
Links Page Display links to your favorite resources on the web on your Links page.
Automatic Birthday Greeting Duet can send automatic birthday greetings to your students.
Remote Login Form If you already have your own studio website, you can place a login form to Duet on your existing site.