Still Using Word or Excel? Prepare to be blown away!
Duet is the easiest way to keep track of your studio finances. You'll always know how much your students owe you - and so will your students! You'll save time with automatic invoicing. Oh, and forget data entry - if your students pay you on-line, that's automatic, too.
Track Income and Expenses
Record check payments manually, or automate the data entry with on-line credit card payments.
Duet makes it easy to see each payment you receive, and every expense you have in your studio. Whether you're charging students for lessons, books, or recital fees, Duet can track it all. You can either input the information manually, or set it once and forget it.
When you buy sheet music, a new instrument, or other purchases for your studio, you can keep track of it for potential tax deductions. Setup recurring transactions for things like rent or subscriptions.
Automatic Invoicing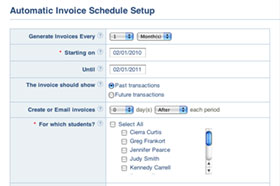 We have created a revolutionary invoicing system, that automatically pulls from your calendar and other parts of the program to determine how much your students owe. Tell it how you want to charge your students, and it will generate an accurate invoice for you automatically.
Create invoices for all your students at once, each with their own unique charges. Or setup an automatic invoicing schedule so the invoices will actually create themselves every month (or however often you specify)! Customize invoices with your own logo.
Duet can even create and email the invoices directly to your students while you're sleeping.
It's like having a personal assistant for your studio. Completely hands off!
Accept Credit Card Payments

If you're tired of collecting checks every month and constantly running to the bank to make deposits, you might want to consider allowing your students to pay you by credit card. All that's required is a Paypal Business or Premier account, which is free to set up.
If you use this option, invoices you send from Duet will have a link for your students to pay via Paypal. They can also log into your studio website and make the payment from there. Some teachers like to setup recurring payments, too, so that students never miss a payment again.
If you choose to link your Paypal account to Duet through Paypal's IPN service, any payments made by your students through Paypal will automatically be entered into Duet as well, so you won't have to do any of the data entry! You'll get an email notifying you when you receive a payment, and that it's been entered into the system.
As with all credit card merchants, Paypal will take a small percentage of each payment, usually 2.9% + $0.30 per transaction (View Paypal's transaction fees) – a small price to pay for the convenience and the time you'll save. Some teachers choose to increase rates slightly to compensate for the fees, and students are generally more than happy to pay a few extra bucks for the convenience.
Financial Reports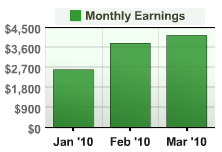 It's a snap to see how much you're earning and spending with Duet. This makes tax time a breeze, and helps make sure you don't have any money slipping through the cracks. Here are some of the financial reports you'll enjoy.
Income & Expense Report - see a breakdown of where your money is coming from and where it's going.
Earnings Report - see your studio growth over a period of time.
Students Owing Report - see how much each student owes you right now.
Mileage Report - see how many miles/kilometers you've traveled during a period.
Student Account Summary - see all lesson and billing history for a student or family.
Other Billing Features
Family-based billing Teaching a family with multiple students? Duet can group all their charges onto the same invoice for you.
Mileage Tracker Keep track of your miles/kilometers as you travel for your studio. This becomes a great help at tax time.
Make-up Lessons Track how many make-up lessons each student has, and "use up" a make-up lesson by assigning it to a lesson on the calendar.
Fees and Credits Besides lessons, you can charge your students for books and other fees. You can also issue credits if they have overpaid, etc.
Student and Parent Access Parents can login from home to check payment history, see how much they owe, and make a payment on-line.
Transaction Log See a list of all payments, lessons, fees, and credits for any student or family on your account.
Automatic Lesson Fees Charge your students "per lesson" and have charges taken from the calendar, or "per month" if you charge a flat monthly or semester rate.
Invoice History Search through past invoices to view, print, re-send, or delete them.