Spend less time organizing, and more time teaching.
The more students you have, the more work it can be to setup schedules, handle cancellations, track make-ups, and record each student's progress. Duet takes away that burden, leaving you with more time for teaching.
Live Calendar
Control your schedule from the powerful calendar.
Your Duet account includes a calendar showing all your lessons, recitals, and other events. And since your students can see the calendar when they login, you'll both always be on the same page about when their next lesson is. (Note: Students only see their own lessons, and not the lessons of other students).
The calendar uses colors and icons to help you distinguish what type of events are happening where in your studio. With a month, week, and day view, it's easy to stay on top of your schedule. Also syncs with Google Calendar.
In addition to the calendar, Duet can send your students automatic lesson reminder emails before each of lesson. Now you've almost completely solved the problem of no-shows.
Automatic Lesson Reminders
We'll remind your students of upcoming lessons for you, to prevent no-shows.
One of the best ways we've found to help students remember lessons and events is to send them an automatic email about upcoming events. Duet can do this for you automatically, and many teachers have told us this eliminates no-shows almost 100%.
Simply specify how many days in advance you want the reminders sent, and each student (and parent) will get a personalized reminder with the details of the lesson or event. You have complete control over the wording of the lesson reminder email, as you do with all the other automatic emails that are sent through Duet.
In additional to automatic lesson reminders, Duet can also send your students automatic birthday greetings, lesson notes, payment receipts, and more.
Track Lesson Progress
After each lesson, or at the end of the day, you can write notes about what happened at the lesson, give the student assignments, or practice suggestions for the week. You can also write private notes to yourself so you'll remember where to pick up next time.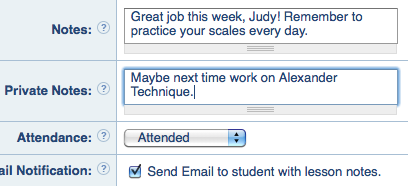 Unlike writing in a notebook or on a sticky-note, however, which often get lost or ignored, Duet records your message to the student in the lesson history for review by you, the parent, and the student at any time.
You can even have the notes emailed to the parent and the student at the click of a button! Parents love getting these reminders and knowing what's happening at their kids' lessons. It also becomes a good reminder for the student to practice.
In addition to leaving notes, you can also record attendance, issue a credit, or enter a payment if the student paid when they came to their lesson. Search back through your lesson history to see the student's progress over time.
Lending Library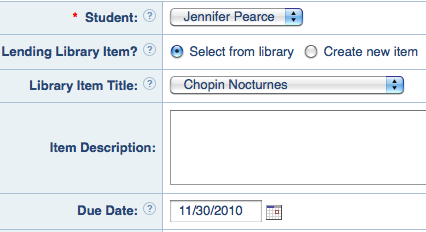 Have you ever lent a book out to a student, and never gotten it back? Duet solves that problem by giving you a simple place to record what you lend out to whom, and when you want it back.
Duet will even send your student an automatic reminder email before it's due, reminding them to bring the book back to their next lesson. No more lost items!
Store your entire library of sheet music and other items, and lend from there. Or just lend one item at a time as needed.
Other Lesson Features
On-line Booking Let students register for available events. Great for starting out the year, registering for parties, make-up lessons, and schedule-swapping.
Practice Log Students can record their practice times and what they did. You can review it with bar charts and detailed reports.
Make-up Lessons Track how many make-up lessons each student has, and "use up" make-up lesson credits by assigning it to a lesson on the calendar.
Mass Email Students Send students a personalized mass email, either from a template you've created or a one-time message.
Repertoire Tracker Track what pieces each student is working on or has mastered. Record competition scores and piece difficulty as well.
Attendance Report See how many lessons you've taught over a period of time to one student or several.
Student Contact Information Store all your student's contact information including birthday, school, skill level, and more. You can export it to Excel as well.
Daily Summary Report See today's schedule, complete with notes from your last lesson with each student, and their current account balance.